Point Turton Caravan Park
Location, location, location!
Your Park Managers, Malcolm & Dani Wheadon wish to extend to you a warm welcome to the Point Turton Caravan Park.
Point Turton is a peaceful seaside town overlooking the beautiful calm waters of Hardwicke Bay. The award winning Point Turton Caravan Park is uniquely nestled in a disused historic flux quarry making it very popular as a tourist destination because of its sheltered location allowing year round boating, fishing and sailing. The park is a delightfully picturesque central location for visitors to base themselves whilst exploring the scenic southern Yorke Peninsula.
Point Turton Caravan Park caters to all travellers, with grassy tent sites through to large sites for big rigs. There is also a range of cabin accommodation including the innovative Luxepods. Overlooking Hardwicke Bay's white sands, turquoise waters and the local jetty, Point Turton Caravan Park is the perfect base from which to explore the surrounding areas.
This truly is the perfect peaceful location to fish, explore or simply relax and enjoy yourself.
Accommodation
Point Turton Caravan Park features a range of cabin style accommodation to suit all visitors from two bedroom deluxe cabins, deluxe family cabins and deluxe spa cabins. The park also offers the new modern 2 & 3 bedroom Luxepods which include a wheelchair accessible option in the 2 bedroom Luxepod. All of our cabin guests can enjoy the incredible views over Hardwicke Bay direct from the balcony.
Enjoy the activities around Point Turton while exploring the Yorke Peninsula
Point Turton is becoming increasingly popular as a tourist destination as it offers so much for the visitor to do. The area around Hardwicke Bay offers mile upon mile of beautiful beaches and reefs for walking and exploring, shell collecting, swimming, diving or just for relaxing, while the sheltered bay is perfect for boating, fishing, windsurfing, sailing and jet skiing.
Exploring the Southern part of the peninsula is a must for all visitors as the area abounds with numerous coastal scenic drives and no visit would be complete without a trip to the spectacular Innes National Park.
Lots to see at Point Turton
Point Turton overlooks the beautiful blue waters and white beaches of stunning Hardwicke Bay where the peninsula's 'leg' meets its 'foot'. The sheltered waters are near-perfect for year round boating, sailing, windsurfing, diving and fishing.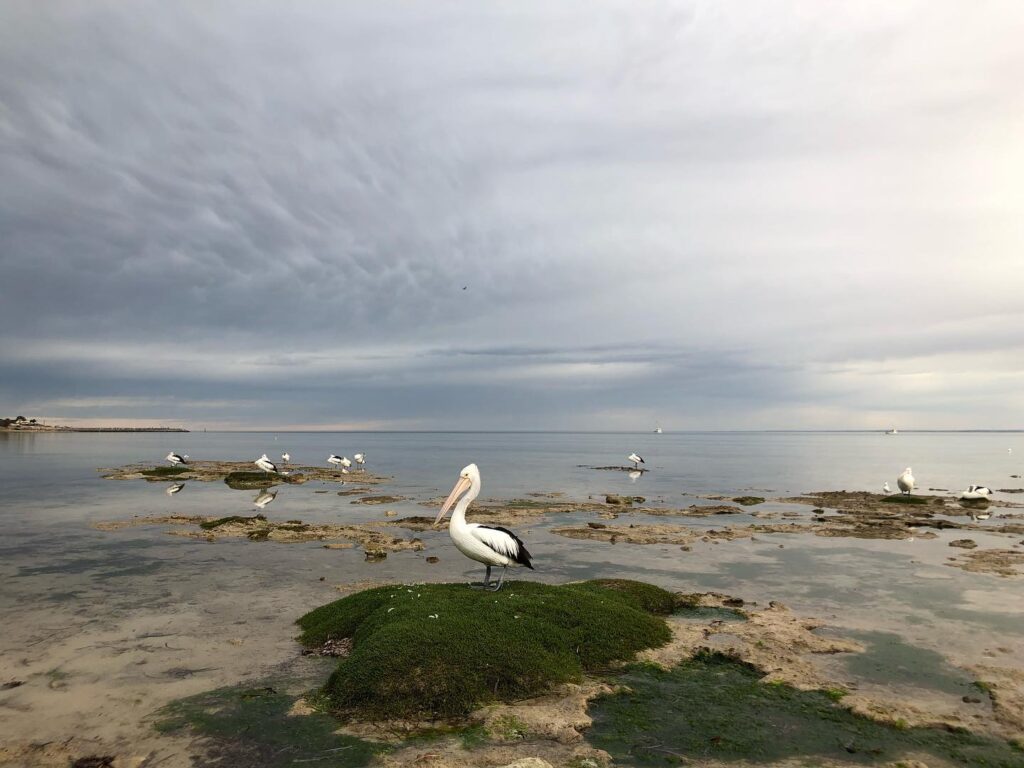 We offer a wide selection of facilities at Point Turton
On-site parking
One vehicle is permitted per site or cabin reservation. Car parking is available directly in front of the caravan park for additional vehicles.
Pet friendly parks
Pets are welcome to holiday with you at Point Turton Caravan Park on our powered sites. Please advise us if your pet will be staying also at the time of booking.
See pet policy
Children's playground
Point Turton nature playspace and bike track is a great place for the kids to explore.
Learn more
Tavern nearby
Open seven days, the Tavern on Turton offers alfresco dining and a la carte in the evening. The Tavern is situated directly behind the caravan park with stunning views overlooking the bay.
Learn more
Fishing and Swimming
Point Turton offers some great areas to fish and swim. The jetty is the hub over the summer months with plenty to see and do from snorkelling, fishing, swimming or you can just enjoy all that nature has to offer.
Tennis Court Hire
Point Turton township tennis court is available for hire free of charge. It is located near the children's playground.
Winter Camp Fire
In the winter months you can enjoy the warmth of our communal fire pit. Its a great way to meet like minded travellers.
Dump Point
A waste water disposal site is available free of charge for use by caravan park patrons.
Walk the Yorke
With more than 500 kilometres of continuous shared walking and cycling leisure trail, you can explore Yorke Peninsula's coastline from Port Wakefield to Moonta Bay.
Learn more
Wiki Camps
We are proud to be part of Wiki Camps
Google Reviews
View all our amazing reviews on Google Reviews.
Trip Advisor Reviews
View all our amazing reviews on Trip Advisor.