Point Turton Caravan Park
Accommodation
Location, location, location!!
When we say absolute waterfront that is exactly what we mean. All accommodation types are positioned with stunning panoramic views of Hardwicke Bay. Wake up to a glorious sunrise over the water while enjoying all that the Yorke Peninsula has to offer.
Prices are subject to change after June 30, 2023 as this Caravan Park is managed by the Yorke Peninsula Council and has to comply with Council's fees and charges policy. Please note that it is likely that a slight price rise will apply to your booking and therefore the balance of your account could be higher than indicated on your present booking.
Accommodation options
Point Turton Caravan Park features accommodation to suit all visitors from two bedroom deluxe cabins, deluxe family cabins and deluxe spa cabins. The park also offers the new modern 2 & 3 bedroom Luxepods which include a wheelchair accessible option in the 2 bedroom Luxepod. All of our cabin guests can enjoy the incredible views over Hardwicke Bay direct from the balcony.
Enjoy the free activities at Point Turton
Point Turton is the perfect destination for a relaxed low key holiday. There is something for everyone from jetty and shore fishing, boating, long sandy white beaches, caves to explore and a great nature playground and bikes track for the kids.
Lots to see at Point Turton.
Point Turton overlooks the beautiful blue waters and white beaches of stunning Hardwicke Bay where the peninsula's 'leg' meets its 'foot'. The sheltered waters are near-perfect for year round boating, sailing, windsurfing, diving and fishing.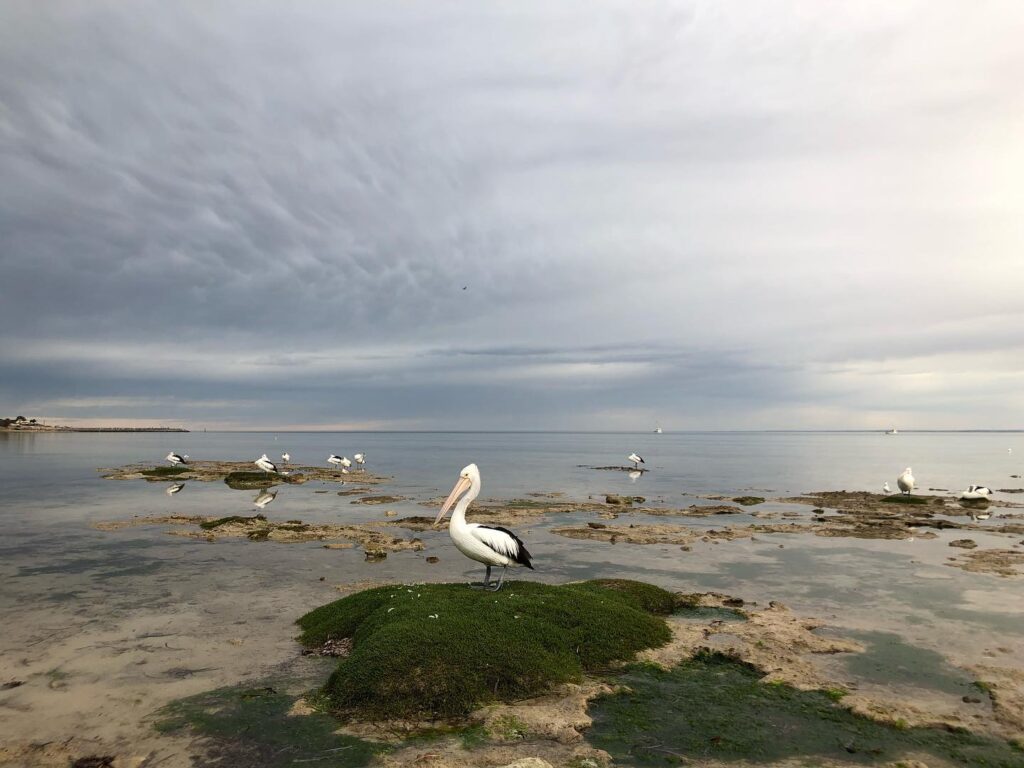 We offer a wide selection of facilities
On-site parking
One vehicle is permitted per site or cabin reservation. Car parking is available directly in front of the caravan park for additional vehicles.
Pet friendly parks
Pets are welcome to holiday with you at Point Turton Caravan Park on our powered sites. Please advise us if your pet will be staying also at the time of booking.
See Pet Policy
Free WIFI
Stay connected. Wi-Fi connectivity is free to all caravan park guests.
Winter Camp Fire
In the winter months you can enjoy the warmth of our communal fire pit. Its a great way to meet like minded travellers.
Bathrooms and showers
Communal mens and ladies bathrooms are available for caravan park guests.
Laundry room
You can get your holiday washing done here no worries. Coin-operated washers and dryers are available for our guests to use in the laundry 24/7 aswell as an outside clothes line area.
Camp Kitchen & BBQ's
"Billy's Kitchen" has everything you need if you are camping or caravanning. We also provide free gas BBQ's outside, a microwave, refrigerator, kettle, toaster, an oven/cooktop and washing facilities. A flat screen TV is available here also for your viewing pleasure.
Electric Car Charging Station
If you're travelling to and around Yorke Peninsula in a hybrid or electric vehicle, there are a number of electric vehicle charging stations around the region. Book and stay in our Luxepods and have exclusive access to this service. Contact us for more information.
Disabled Bathroom Facilities
The caravan park offers a disabled bathroom facility for campers and caravanners. We also have accommodation options that are wheelchair accessible.
Learn more
Dump Point
A waste water disposal site is available free of charge for use by caravan park patrons.